Emission exceptionnelle puisque j'ai reçu au studio des étudiants qui m'ont proposé une playlist.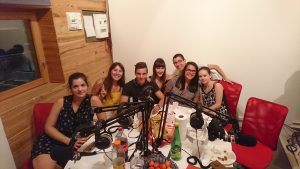 Gaëlle, Clara, Lucas, Tifany, Bastien, Ellea et Barbara.
Ellea a lancé les hostilités avec : Le poussin piou par Pulcino Pio et Les sardines par Patrick Sébastien.
Lucas a proposé : Byte par Martin Garrix & Brooks et Scared to be lonely par Martin Garrix & Dua Lipa.
Tifany a enchaîné avec : Feeling good de Nina Simone, I put a spell on you par Annie Lennox et Shape of you de Ed Sheeran.
Laurie nous avait concocté 2 titres : Girls just want to have fun de Cyndi Lauper et One way or another de Blondie.
Pour Laura, c'était : Swalla par Jason Derulo feat. Nicki Minaj & Ty Dolla Sign et Slide de Calvin Harris feat. Frank Ocean & Migos.
Quant à moi, je leur avais préparé une playlist avec les invités que j'ai reçus, les artistes rencontrés dans des festivals et concerts, les futurs invités, les artistes avec lesquels je suis en contact et mes coups de cœur.
Voici une mini-sélection : Sunday par Muttonheads feat. Vita Levina, New frontier par Rosedale, Nanana par Youthstar feat. Deluxe et Who can't stop the blurred lines par Djs From Mars.
Avec Tifany et Gaëlle.
[Top]