1ère partie : L'Age d'Or, trio parisien de musique indie electronica composé de Valentin (compositeur, multi-instrumentiste et chanteur), Yohann (batteur, machiniste et percussionniste) et Nicolas (concepteur visuel). Groupe découvert au festival Les Kiosques à musique de La Voulte le 30 juillet 2016 (voir photos prises lors de leur concert).
Avec les titres LOVE, Monarchy et From where we are master.
2nde partie : pleins feux sur le groupe de rock australien INXS.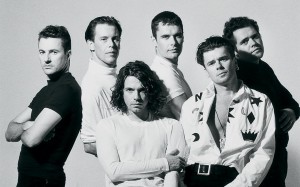 Avec les titres Original sin, What you need et Need you tonight.
Avec les titres Mystify, Suicide blonde et Bitter tears.
Avec les titres Heaven sent, The gift et The strangest party.
Avec les titres Elegantly wasted, Don't lose your head et I'm just a man.
Avec les titres Shake the tree, Shine et Show me cherry baby.